Fractional Director of SEO
Get high-level help directly from me, Alek Asaduryan, to help you grow your business.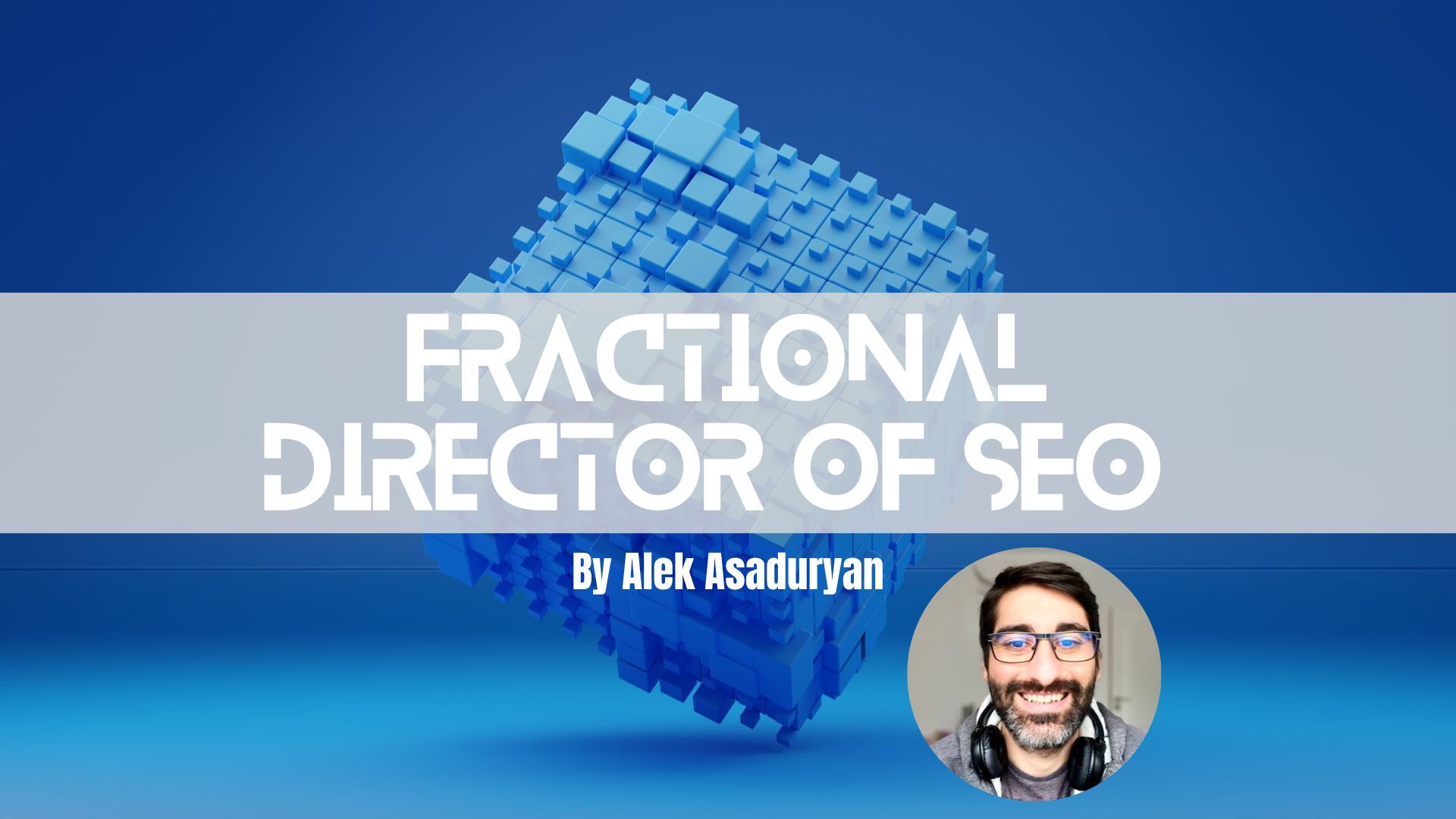 LOOKING FOR SOME EXPERT SEO HELP?
Maybe You Need A Fractional Director of SEO
This is perfect for entrepreneurs who have some traction but aren't able to afford a full-time SEO director.
Here's what I can offer
I'll advise you on everything SEO.
✅ Need to know which keywords to focus on? I got you.

✅ Need to know what kind of content you should be writing to grow your organic traffic? I GOT YOU.

✅ Got a link building agency working for you, but you're not sure if it's worth? I'll TELL you.

✅ Want to put together a quarterly SEO strategy so you know where to focus? I'll strategize with you.
We can chat day-to-day via a private Slack group for any quick one-off questions you have.
We can hop on a quick call if you need to chat, check in, or go over things.
I'll do some of the high-level work myself.
✅ Need some KW research done? It's DONE.

✅ Need some help setting up an AI content strategy? Done!

✅ Need some quick research about how a competitor is getting links so you can get some too? 100% DONE

✅ Need a quick site audit to help identify a problem? It's done; what did you even expect?
There are some things I will not do.
❌ Write all your content myself.

❌ Build links/do outreach.

❌ Optimize content via Surfer/NeuronWriter or some tool.

❌ etc.
Think of me in a more managerial/advisory role. I'll get my hands dirty on some of the managerial stuff, but I'm not your new Junior SEO. 🙂
Who is this service for (and specifically not for)?
This service is for you if:
✅ You have been doing OK with general marketing knowledge but you're ready to step it up on the SEO front.

✅ You have a team that's been doing OK posting content and stuff, but they could use some direction.

✅ You've made it this far not focusing on SEO at all, but now you need to and don't know where to start.

✅ Your site has been successful IN SPITE OF your lack of SEO, but you're starting to lose ground in the SERPs.

✅ You are in over your head and you need someone who is 100% on your side to help you out.

✅ Your site is completely unoptimized, and you don't know what to focus on.

✅ You've written a bunch of content, but nothing seems to be ranking
…and so on.
This service is NOT for you if:
❌ You have an amazing SEO team, and you're firing on all cylinders.

❌ You rank for everything you want to, and things are going great!

❌ You have a huge team, and you're just going to stick me with one of your managers who is never going to listen to my ideas…
How does it work, and what does it cost?
You just fill out the form below, pay the money, and I'll be in touch.
In the very unlikely event, you read all this, and we're not actually a great fit for some reason, I'll let you know upfront, and I'll immediately refund your payment.
Once we start working together, I'll be in touch with a form for you to fill out that will give me all the info I need to get started.
I'll send you the link for Slack (if you want it–not mandatory), and then I'll get to work digging into your site and finding things to address.
This is a monthly, recurring service. It costs $1,000/mo, and I'll work my ass off to give back way more than that in value.
You can cancel anytime–but I hope you'll at least commit to 3-4 months if you sign up.
SEO takes time and a little while to see the payoff, and I'll be able to focus on yelping you fully instead of constantly trying to get someone new in the door.
There are only 5 spots–my time is not infinite. Once those spots are booked, they are GONE.
If you miss out this time, I'll give a shout in my newsletter when/if a new spot opens up, so keep your eyes open if that's the case.
Any questions? Just send me a note here: hey@alek-asaduryan.com
Get a Fraction Director of SEO
Cost: $1,000/mo ( recurring )
Value: Priceless
Recommended timeframe: min 3-4 months
Frequently Asked Questions
What exactly does the service include, and what will you not do?
This service includes advising on all things SEO, chatting day-to-day via a private Slack group for any quick questions, occasional calls for more in-depth discussions, and high-level SEO work I'll handle myself. However, I won't be taking on tasks typically designated for a Junior SEO. My role is more managerial and advisory.
What's the duration and cost of this service? Can I cancel anytime?
This is a monthly, recurring service at a cost of $1,000 per month. While you can cancel anytime, I recommend committing for at least 3-4 months given the nature of SEO, which often requires some time to see tangible results.
What happens if I sign up and later we discover we're not a great fit?
If after you've signed up and paid, and we find out we're not a good match for any reason, I will let you know upfront. Your payment will be promptly refunded.
Are there limited spots available for this service?
Yes, there are only 5 spots available for this service. Once they're booked, they're gone. If you miss out this time, keep an eye on my newsletter, where I'll announce when a new spot becomes available.