Tag Parrot Review 2023 - Features, Pricing and Alternatives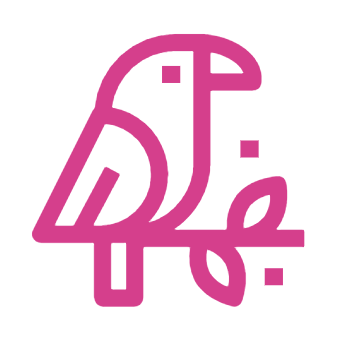 Our Verdict
Tag Parrot offers to find exactly what you need to help you index your pages on Google. Simply connect it to Google Search Console and turn it on.
Get Started
Tag Parrot is a fantastic tool for auto-indexing your pages on Google. The impact it has on indexing some pages that were stuck is undeniable.
But what makes it so great?
How can you know it'll work for your site as well?
Aren't there cheaper or better alternatives?
If you want the answer to those questions and more, read our Tag Parrot review below.
What is Tag Parrot?
Tag Parrot is an innovative digital tool tailored for website owners and SEO enthusiasts.
Its primary function is to streamline and accelerate the process of getting web pages indexed on search engines, notably Google.
Users simply register their website, point Tag Parrot to their sitemap, and the tool takes over.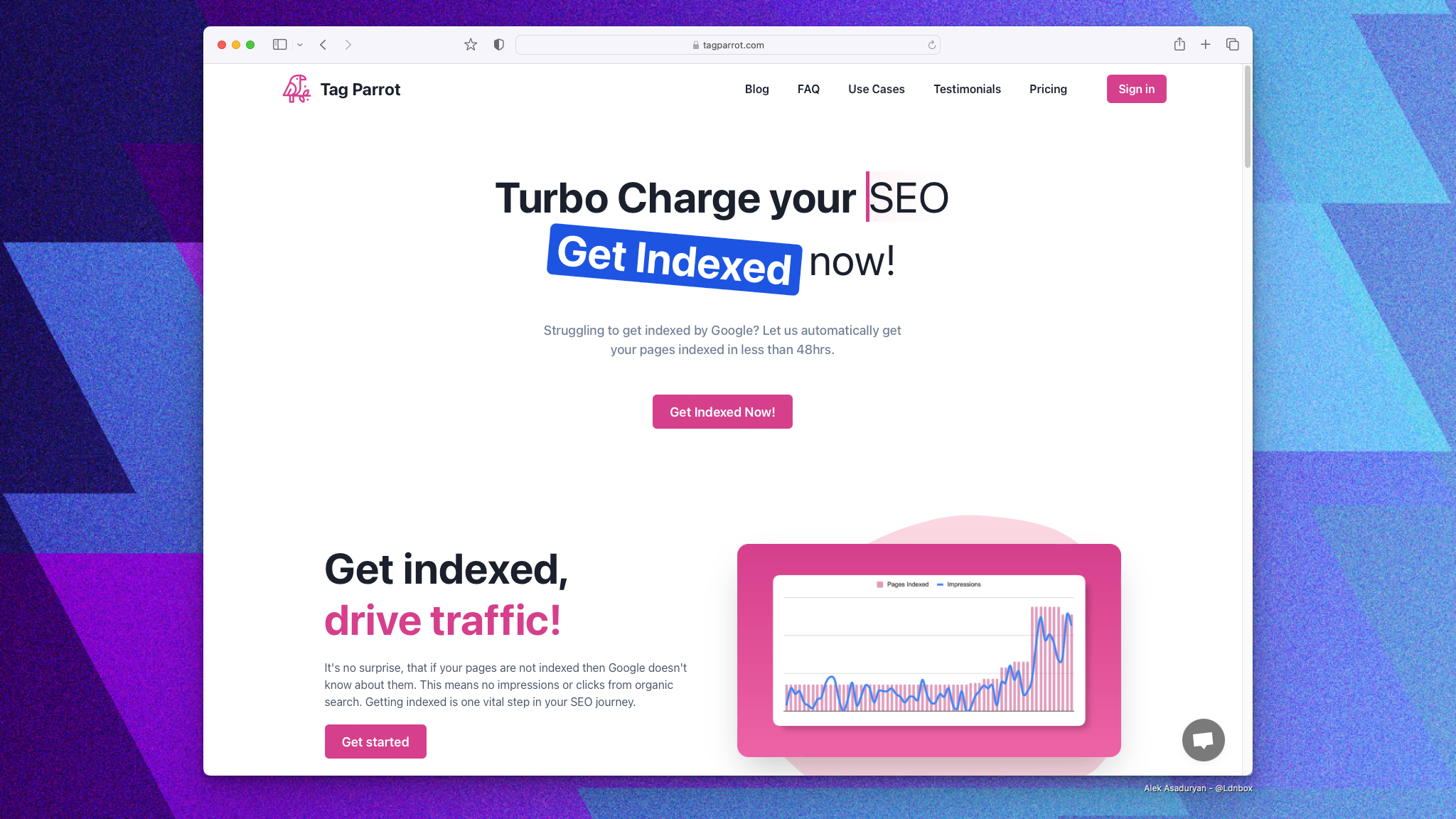 It efficiently crawls the website, capturing every page and its associated meta tags.
One of its standout features is the ability for users to preview Open Graph metadata, ensuring that titles, descriptions, and images are primed for optimal display on social media.
Beyond just crawling, Tag Parrot integrates seamlessly with Google Search Console.
With user permission, it auto-submits web pages for indexing, boasting a remarkable turnaround of approximately 48 hours for Google indexing.
This swift indexing can lead to a notable uptick in organic impressions and potential site traffic.
However, it's pivotal to remember that while Tag Parrot excels at indexing, a comprehensive SEO strategy is crucial for sustained online success.
Why Getting Indexed By Google Matters?
Getting indexed by Google is fundamental for any website aiming to gain visibility and traction online.
When a website is indexed, it essentially becomes a part of Google's vast database, allowing its pages to appear in the search engine's results pages ( SERP ).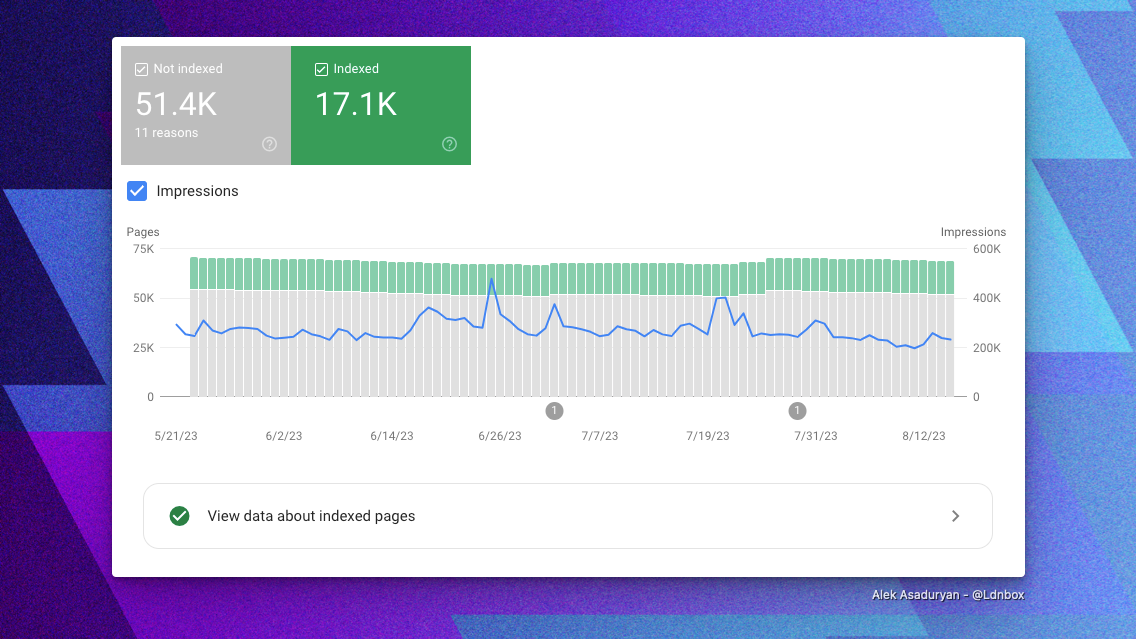 This boosts the site's visibility, making it accessible to a broader audience.
Such visibility directly impacts website traffic, potentially converting visitors into loyal customers or subscribers.
Moreover, as Google evaluates the site's content quality, keyword relevance, and structure during indexing, securing a place in its index can significantly enhance search engine rankings.
Tag Parrot Features
Tag Parrot is a pretty straightforward tool with just a couple of very useful features.
One click bulk indexing request
With a click of a button, you will request a full indexing of all your pages with Tag Parrot.
If you have a couple of hundred pages, this mundane task could take you a couple of days.
Website owners often pay freelancers on Upwork or Fiver to manually submit pages for indexing on GSC, and now you can do it with a click of a single button.
Auto Indexing
Tag Parrot's auto-indexing feature streamlines the process of getting your web pages indexed by Google.
While traditionally, you could either wait for Google to naturally discover your page or manually submit URLs for quicker indexing, Tag Parrot offers a more efficient alternative.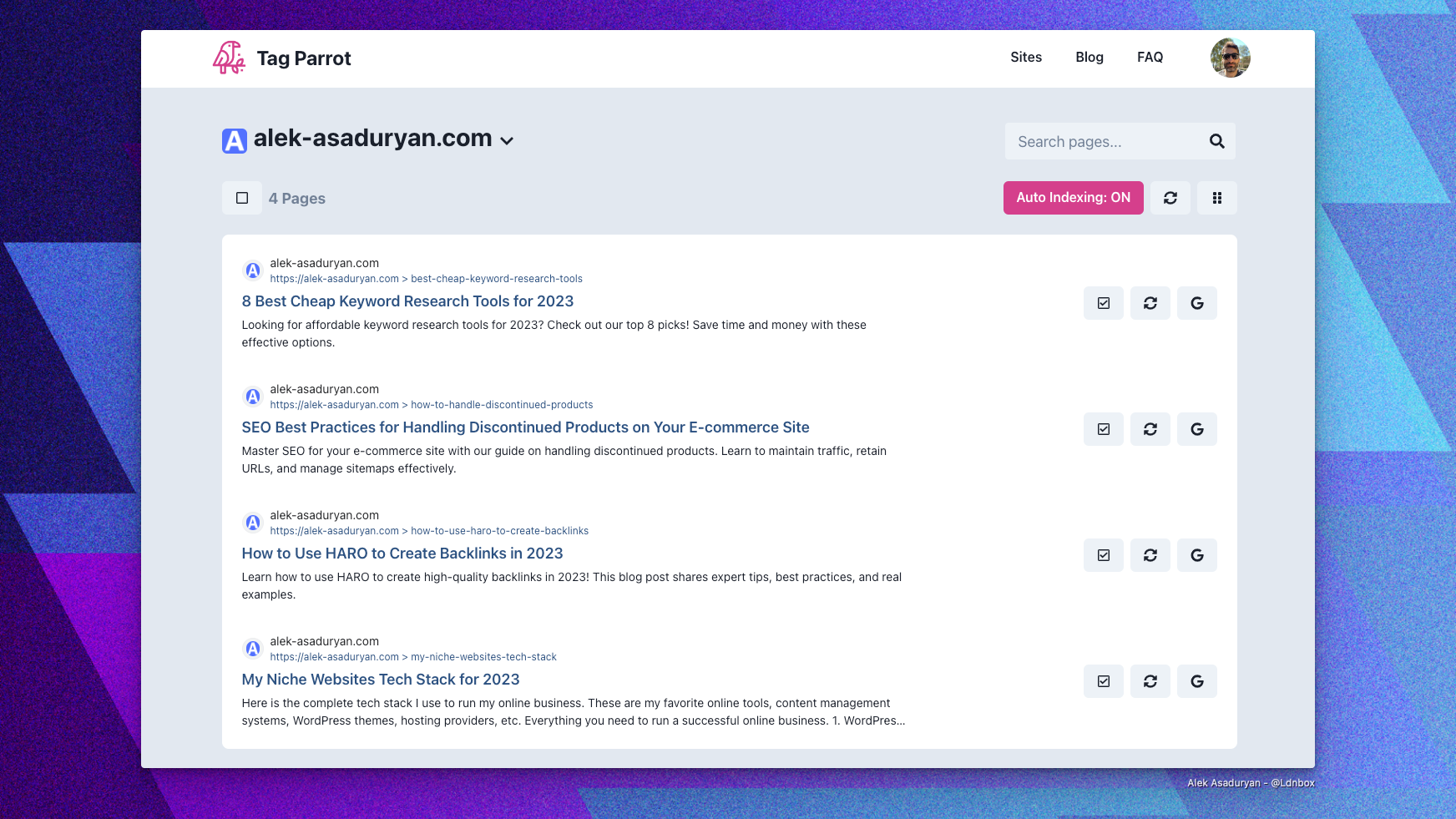 Once activated in the settings, this feature automatically requests the indexing of new pages detected in your sitemap every 24 hours, with a limit of up to 200 pages per day.
This ensures both existing unindexed pages and new additions are seamlessly processed.
Furthermore, to keep you informed, Tag Parrot provides a daily email summary highlighting the pages submitted for indexing.
Monitor and review meta tags issues
Ensuring the consistency and precision of your meta tags is essential to guarantee that your pages are clearly defined, and all desired information in your titles and descriptions is accurately displayed.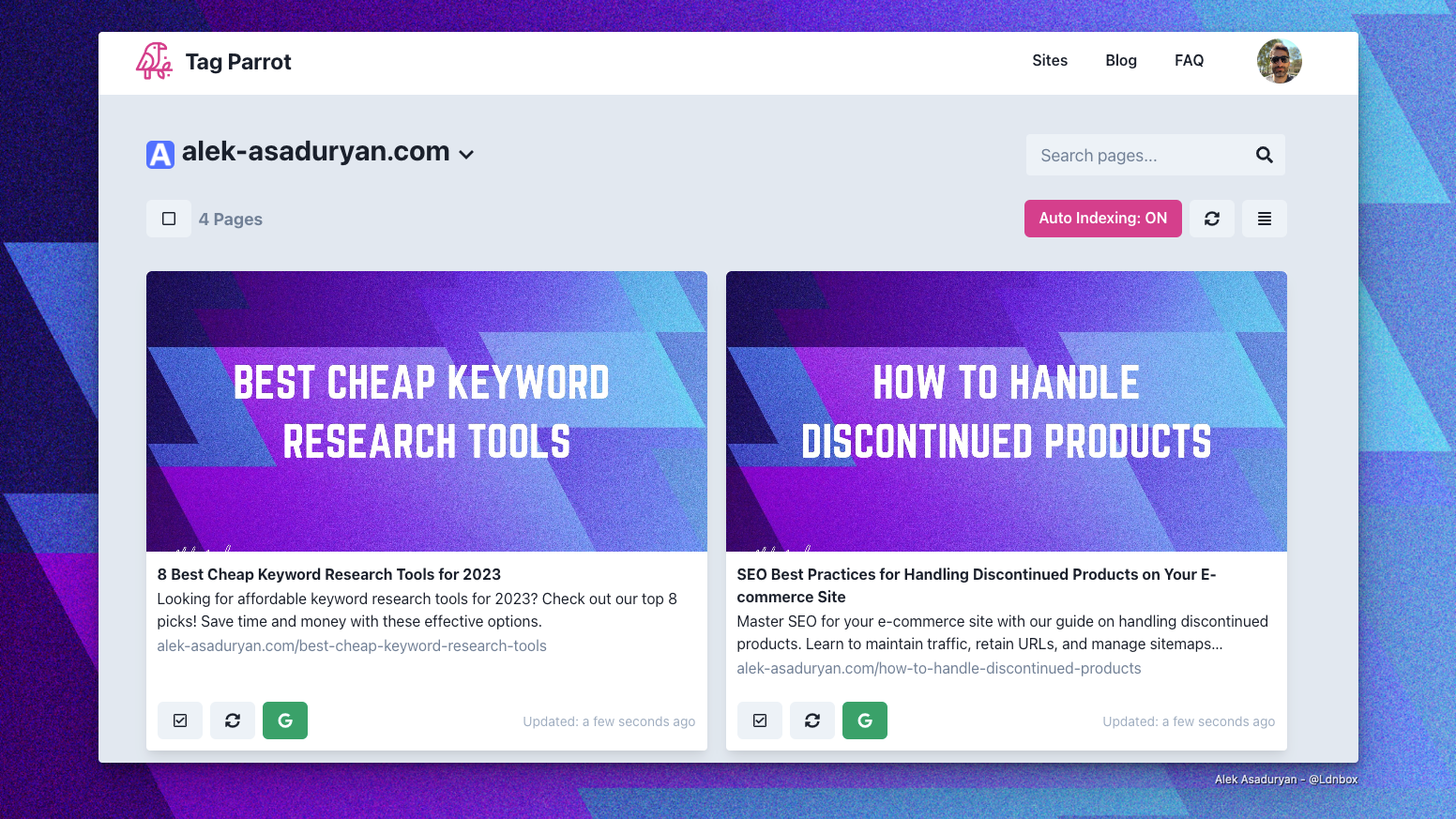 Tag Parrot has created a simple visual first approach to the review process by allowing you to view preview cards for every single page in one go.
Why (And How Well) Tag Parrot Works
Tag Parrot works very well because it uses Google's API to submit your pages for indexing in bulk.
This feature works very well when you do it manually page by page, so it's logical to work even better when you do it in bulk.
I tested the tool on two of my content sites, and I think results speak for themselves.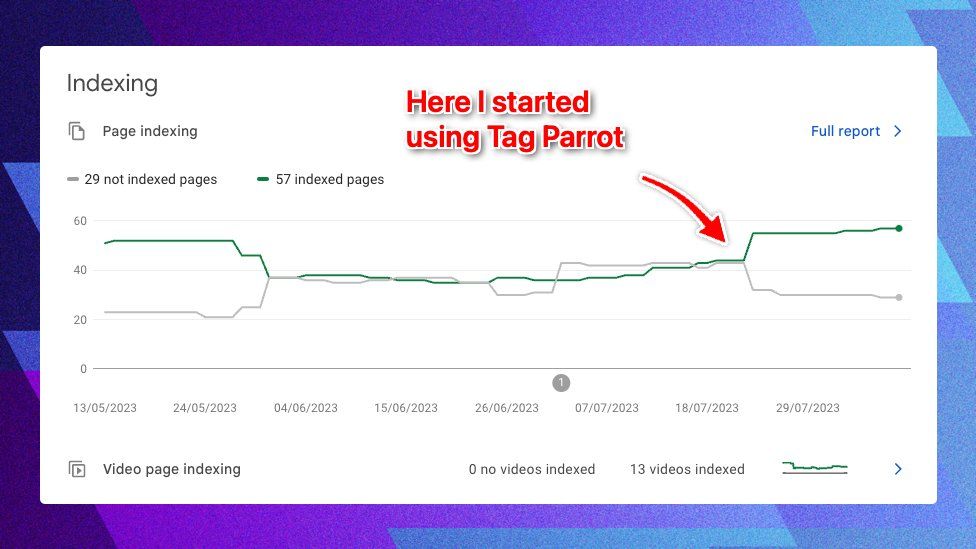 Tag Parrot Pricing
Tag Parrot has a free version where you can test some of the features for 1 site.
With it you can preview the meta tags of 100 pages, but it doesn't allow you to auto index any pages.
The starter plan is $9, and it's perfect for most people ( this is the one I tried ).
You can use it with 2 sites, and you don't have a limit for the pages you want to index.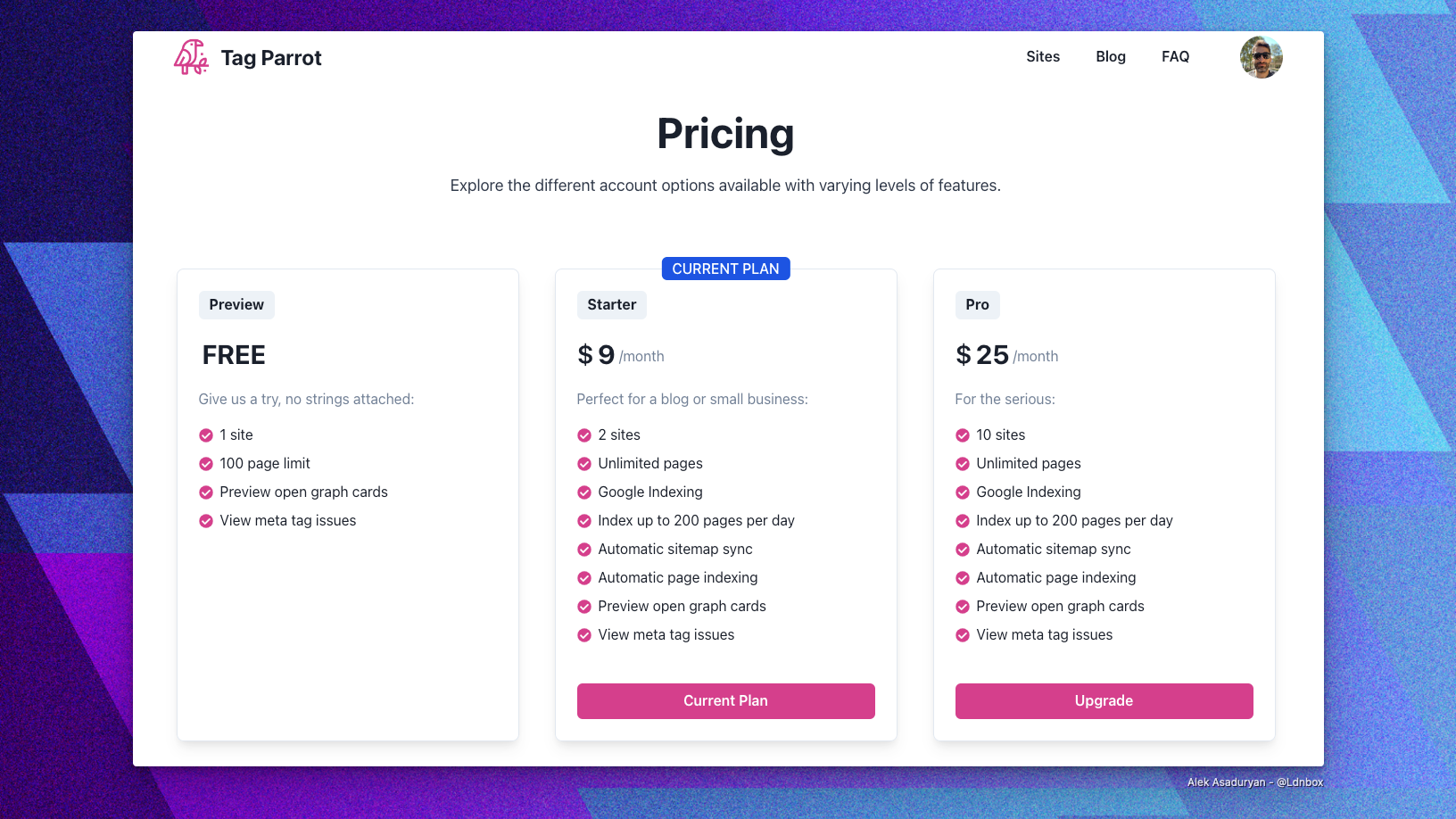 The only limit is that you can index up to 200 pages per day.  
And the most expensive plan is $25, which is for people with up to 10 sites.
Where I Wish Tag Parrot Did Better
I find Tag Parrot user-friendly, but I sometimes struggle to switch between my sites and locate the settings.
The process of granting Tag Parrot access to Google Search Console is easy but it took me a few minutes to figure it out.
My suggestion for the tool maker is to add more tutorials and tips inside the tool.
Tag Parrot Alternatives
There are a couple of TagParrot alternatives.
Tag Parrot vs IndexMeNow
IndexMeNow is an online tool that helps you quickly add your website links to search engines. It's simple to use and has a high success rate of getting your links indexed.
It has a high indexing rate of more than 90% and pages are usually indexed within 24 hours. The tool is easy to understand and use, and if a link isn't indexed, you get your credit back.
IndexMeNow is a bit expensive and the prices for smaller packages might be considered high for most publishers.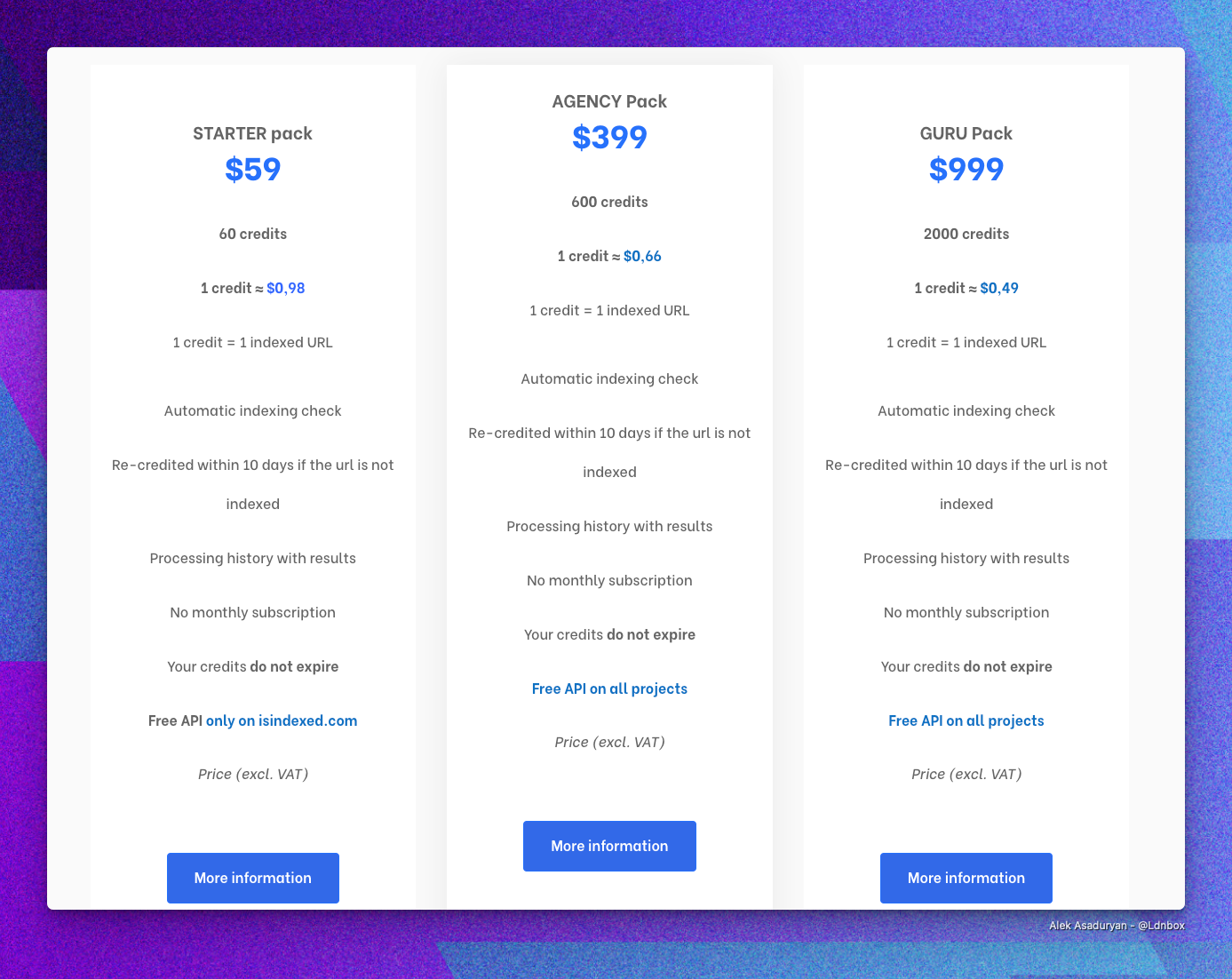 In comparison, Tag Parrot is much more affordable at $9 per month for a starter plan.
Tag Parrot Review Conclusion
In the vast landscape of digital tools designed to enhance website visibility, Tag Parrot emerges as a front-runner.
Tailored for website owners and SEO enthusiasts, its primary function is to expedite the indexing process on Google.
The tool is not just efficient but also user-friendly, automating a process that can otherwise be tedious and time-consuming.
While it does have areas that could benefit from enhanced clarity, especially for beginners, its affordability and efficiency overshadow its minor shortcomings.